** This interview was originally featured on CUT & SHOW on 28 January 2010
This week, we spoke to Darrin Kenigsberg and Eric Dickstein from Dutil Denim. They both gave us the rundown of the company, what styles men and women are into right now, why jean silhouettes are unlimited in direction and how being passionate about the denim is just like playing an instrument.

Q: Tell us how you got into the business of denim.

ED: Dutil is going on its fourth year now. It was inspired by a premium eyewear company that I worked at since 1996. One of the founders of started a lifestyle sunglass collection, and he wanted it to be in boutiques. Oddly enough, that was the inspiration for Dutil Denim -- I was going [around] and selling to all these cool stores, asking people what they were doing well with and they kept coming back to denim. Coming from the optical industry, there are so many stores out there that just focus in on one commodity, but there were no stores focusing on denim, which is pretty much something everyone [purchases].

DK: The way I met Eric was that I was distributing and was the marketing director for Earnest Sewn; the company I was working with owned [Earnest Sewn] worldwide, which derived from Paper Denim & Cloth. I met Eric through the beginning stages of when he was opening [Dutil]. Months after he explained the concept, I basically fell in love with it right away. Him and I became friends and [began] networking strongly. I realized shortly after he opened the store, it was exactly how he imagined and described it, which was a specific, jeans-only store. Recently in December, I moved here to become his business partner and to expand the brand.

Q: Where does the store name derive from?

ED: In French, loosely -- if you put an "e" at the end of it -- "dutile" means "utility of use".

Q: What denim brands do you carry at the store?

ED: We really don't focus so much on brand names as much as we do on types of fits.

DK: We're making sure that there's not one person that walks out without a pair of jeans. If they're not purchasing, it's not because of product selection, it's just because they're deciding to purchase at a different time. We're specifically into longer inseams for men and women, [and we have] brands from around the world in all sizes. We're always a step ahead of the other retailers in that sense, which you can see from the product selection. Essentially, [customers are] buying from the Dutil brand, we just carry other brands within the store as well.
Eric Dickstein
Q: In terms of fit and style, what are men and women gravitating toward lately?

DK: Great question. Fit-wise for men, it's slimmer, straighter and [more] fitted. There's also a throwback to vintage collections that replicate jeans from the 1940s. Men are liking a more tailored fit with their jeans, and raw denim is strong. Not neccesarily always skinny. Something not too logoized and simple.

ED: What we can tell you is that we're launching our own denim collection, which will be in the market in January. Our objective is to make the quintessential slim, straight fit for men, and for women, we're doing the quintessential skinny with a higher rise to give a fashion-forward flavour to it.
Dutil Denim Button
Q: What types of washes will be available in your collection?

ED: For men, we're doing raw [washes] because that's what our [style] is. We like the authenticity of heritage denim, and we want to launch our brand with a raw [wash] -- we feel it's appropriate for our branding and our passion.

DK: For women, we're also doing a raw jean, but it does have stretch content in it. So basically [the collection is] a really beautiful, dark indigo jean with a little stretch for women, as well as raw [denim] for men, which we'll be crossing over. It'll be unisex.

Q: And is any of this organic?

DK: None of it is necessarily organic. We're not going to claim to sell organic features, that's not part of our branding [like it is with so many other denim companies]. However we will work towards cleaner operations.

ED: But what we will claim is no matter where we get our products from -- whether it's America, Japan, China, Indonesia or Mexico -- we stand behind the quality one hundred percent. We know we will come up with the best quality denim and fit out there.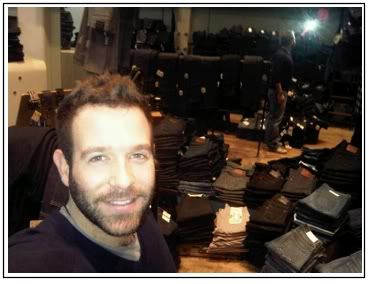 Darrin Kenigsberg
Q: The fashion industry was hit hard economically, as you know. Did it affect the denim industry as much as it did everything else?

ED: In the fashion world, I think denim is one of the most stable items because it pretty much crosses every social and economic boundary, and it's also something you can dress up or wear casually.

DK: It's socially acceptable everywhere you go now. There's no club or bar you can't get into with a pair of jeans on.

ED: Or even a business meeting.

DK: So we're finding that denim is definitely a universal language -- it doesn't matter which nationality you are or where you're coming from.

ED: It's the international language.

Q: Right now, the skinny silhouette has become basic. In the next year or two, where do you see silhouettes trending toward?

DK: Definitely the skinny leg has become more of a staple as far as a silhouette goes. We still sell straight legs, but I would say the skinny is becoming the [new] straight leg for women.

ED: When I was working at [my former job at the eyewear company], I was always asked, "What's trending?". The reality is there are so many [denim] manufacturers out there, you can talk to one company and if they want to do distressed [jeans], then they would say distressed is what's happening. Some manufacturers would say the boyfriend jean. And then maybe it will be bootcut for guys. The reality of it is that each brand -- in their own branding -- have their own sensibility. To answer your question, there really is no answer when it comes down to it. There are wide-leg jeans that we still sell, and there are high-waisted ones [that we sell]. I think that denim is so diverse, that it is unlimited in direction.

DK: It's recycle of style -- [denim] is constantly recycling itself. Something new that we're definitely going to have a selection of is the legging jean, which gives a little more comfort.

Q: You mean the jegging.

ED: Yes. I was just in Los Angeles, and I passed by Fred Segal. In their front window, that's what they were trending: the legging jean.

DK: We've been promoting this for awhile.

Q: Is the denim you're launching in January going to be available only at Dutil?

DK: For the first season or two, we're going to launch it at Dutil stores -- we're obviously looking into opening new locations. With my background, I have a network of the best retailers around the world in denim, so we can eventually open up the gates to specific retailers we want to partner with.

Q: That actually brings me to my next question. What are your plans for expansion?

ED: Basically, the objective in the next six years is to have five stores: one in Toronto, Vancouver, Los Angeles and New York each, as well as one in Japan.

Q: Will you be at any trade shows in the coming months?

DK: Yes, we go to most of the shows.

ED: But we find that they can be weak. The chances are if you find it at a trade show, it's already too late.

DK: We would rather travel the world and go to Japan or Europe and see what's happening in the stores we believe in and network with owners, designers and businesses we've met. When we speak to the source, it's easier to get a lot more creative than just seeing them at shows. One of our better shows for women is Coterie in New York, which we consistently attend. Then there's the shows in Los Angeles that we'll attend, but traveling the world is the best way to see what's going on.

ED: Have you heard of the store American Rag?

MG: Yes, the American Rag on La Brea, you mean.

ED: Let me tell you something amazing that's happening there. There's a little guy that sits in the back and does all the custom denim for American Rag.

DK: He does [custom jeans] for celebrities, basketball players and anyone else willing to spend on custom jeans.

ED: His name is Karl, and he just launched a collection called Rogue Territory. He launched it in our store here -- you can't buy it anywhere else in Canada, you can only buy it here at Dutil. And, of course, you can buy it at American Rag in the states.

DK: It's important to travel around and meet these people, come up with certain ways of launching your brands.

ED: Going to a trade show, you [would] never [have] found [Rogue Territory]. Working with the people at American Rag, [Karl] working on his actual collection -- those are the [kinds] of things Darrin and I really like to focus in on, [which is] finding the passion out there.

DK: As well as making sure we're covered in certain core areas, making sure we have a fit for everybody and [making sure] we have something that gets excitement around a brand, like a young new designer we can help build branding with.

Q: It's obvious you two travel the globe quite a bit. Where do you like to go to scope out style?

DK: Definitely Japan is a trend-setting marketplace. Their retail, I've been told by many reliable sources, is very ahead of how retail should be functioning with the product selection and the passion and the authenticity behind it.

ED: Collaboratively, we've travelled pretty much all over. I've been to Japan, and it's definitely en pointe with not only product design, but also with the way they merchandise and conduct retail. Everybody should go have a retail experience in Japan, specifically Tokyo.

Q: And what keeps you in the denim business?

ED: That's a great question. It's the passion to be greater and to have more integrity and to do something amazing. When you look at some of these brands, it's like a house of cards -- there's no integrity. One of the things Darrin and I really pride ourselves on is not only making a beautiful brand that people are proud to be a part of, but actually having the right business acumen to back it up.

DK: Eric relates passion from the clothing business and the eyewear business a lot of the time to a musical interest -- it's kind of like writing songs, making an album and touring. We've created an environment that's working right now, and it's seen the future. Eric is definitely more of the vision side, and I'm more of the operations side. Together, we see the same goal: opening up more locations with this concept and launching our brand within it is what is going to be our focus for the next year. [We want] our staff to grow with us; we constantly tell them that they're on an even par with us, and it's important for us all to work as a team. [With] most successful companies you see -- Eric and I have worked for two -- it's about building a team and, obviously, being very ambitious.

ED: We didn't really answer your question of why we stay in the denim business, so I'll answer it for you. Are you a musician?

MG: Yes, I can actually play the piano.

ED: Have you ever written a song?

MG: I have never written a song.

ED: Have you ever jammed with somebody, played music with somebody?

MG: Well, I played alto saxophone in jazz band. Does that count?

ED: That counts. Do you remember the feeling when everything was coming together?

MG: Oh, yes. It always felt amazing!

ED: That's the reason why we keep doing it. It's that feeling of when everything comes together. You put on a pair of jeans that you were a part of and instrumental in [creating]. You were part of a vision, and it actually comes to fruition. There's nothing like that feeling of creation. Nothing like it. When you're part of creation and putting something out there in the world and people respond to it, there's really nothing better than that feeling.

--May Globus
dutil denim
303 West Cordova Street
Vancouver, BC V6B 1E5, Canada
(604) 688-8892
http://www.dutildenim.com/