** this interview was originally featured on CUT & SHOW on 28 November 2009
This week, we stopped by YBrands in Vancouver to chat with the agency's super stylish owner, Yasmin Akmal. She gave us the goods on what it's like running her own agency, why traveling is a best bet for finding great brands and her love for Sneaky Sound System on the office stereo.
Q: So Yasmin, tell us about you. How did you get into the business?

YA: I started in retail when I was 18-years-old; I started at Aritzia. I wanted to work at a company that was hands-on, where I could learn more about retail, like buying. So while I was going to school -- I have my business degree now -- I [began] working at a store called Zero Gravity. [Back then], it was probably one of the coolest stores in Yaletown, one of the first ones that opened up. [The owner] was at the forefront of fashion; he would go to Italy, he would go to Bread Butter, he would go to all the shows and bring in brands like Fornarina and Miss Sixty, so I learned a lot from him. By working there, I met a lot of suppliers and met the importer for Fornarina. He was looking for an in-house rep and I felt like I needed a change -- I wanted to learn the other side of the business, as well. I then worked with him for about two or three years, and I once again began meeting other suppliers. One thing led to another, and I started my own agency and now here I am.

Q: When did you start Y Brands?

YA: I started Y Brands about four years ago.

Q: Ah, so it's fairly new!

YA: Yeah, I was in-house for a long time, [repping] Fornarina and Faryl Robin. I've been doing this for so long!

Q: How does it feel to be running your own agency?

YA: It's good. It's amazing. It's what I've always wanted to do: to work for myself and to have my own business. I'm happy with where I am today and with all the brands that I have. It's definitely an accomplishment, and I feel good about it. I [certainly] want to continue growing, and there's still a lot more I want to do.
Yasmin Akmal
Q: So what brands do you have?

YA: I do a lot of shoe lines, so there's Chinese Laundry to Kelsi Dagger to Pour La Victoire to Bensimon sneakers to Faryl Robin. And I do clothing as well, like Black Orchid Jeans and Fluxus. We started doing Something Else by Natalie Wood, which is a line out of Australia -- it's amazing, and it's actually the sister company to Insight. I do Daft Bird, David Lerner leggings, Kaylee Tankus and heartLoom, a line out of Los Angeles.


Q: What big trends are seeing for Spring 2010?

YA: I feel the direction that fashion is going has definitely changed in the past season or two. I feel like there has been a lot of influence from the music industry, and it's becoming more rocker and edgy. For Spring 2010? A lot of Australian labels are quite big, and [Australians] are definitely at the forefront of fashion right now and really on top of their game. Retailers and consumers are looking for different product and good price points -- no one wants really expensive brands. [Awhile back], people wanted expensive, expensive, expensive, but now people want to find that good product at a lower price point. I think it's important to make sure in this industry that you're on top of your game, and you're getting those brands that your retailers are wanting.

Q: Are you feeling good going into next year?

YA: Yes. This season, people were a more positive because they've had such a good fall season so far. I didn't feel any negativity, but again, I think it's because I have price point brands. When I first started, I always wanted to have the coolest brand that might have been expensive, but as I've grown -- and as I've been in the business for awhile -- I've learned you can't have just expensive brands. You need to have good price point brands that are still cool, like Kelsi Dagger and Fluxus.
Q: Where can buyers see you for the upcoming season?
YA: Buyers can find me at Trends, the Vancouver shoe show as well as my showroom at the Parker Building.
YBrands at the Parker Building
Q: What's new for you within the next year?

YA: I do a lot of research. I spend hours looking at what's happening and what direction things are going, whether it's through traveling, looking at websites or talking to people. I just want to make sure I'm on top of things and that I'm bringing in the best brands I can.
Q: Speaking of traveling, what are you favorite cities for fashion?

YA: I travel quite a bit for leisure, so if I go to South American or Europe on vacation, I'm always looking to see what brands are in retail stores [there]. For trade shows, if I go to Vegas or L.A., you don't see too much that's really different or new -- people will already know about any big brands. To stay different, I think you need to go to other countries, like Australia. There are good things coming out of Korea, too. Kaylee Tankus is a Korean label.

Q: What keeps you in the business? What do you love about it so much?

YA: I love my retailers. I love knowing what's happening and what's new. I love sales. I love fashion -- I've always loved it.

Q: We at cut & SHOW are big on music. What are some of your current musical favorites?

YA: I listen to Sneaky Sound System. A lot. I listen to Calvin Harris and Lisa Shaw quite a bit, too.
For more information about YBrands and the brands they represent, please visit their profile page on cut & SHOW. Or contact Yasmin at the numbers below:
YBrands Apparel LTD
Yasmin Akmal
#240-1355 Parker Street
Vancouver BC
Tel: 604-568-5110
Email: yasmin@ybrands.ca
--May Globus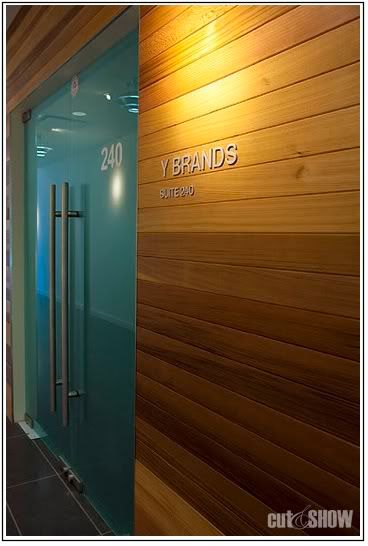 YBrands*
YBrands - Showroom*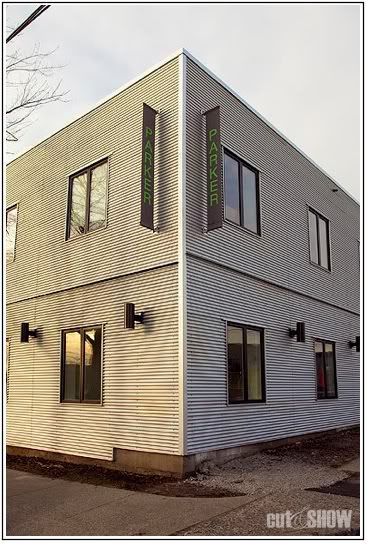 YBrands - Parker Building*